8 ideas to be a different bride
Between originality and sophistication, here it is 8 ideas to be an alternative wedding with style. No more white usually, mermaid dresses and endless aftermath, the new millennium brides love dare.
Tired of traditional diktat, in recent years many brides are detached more and more from the classic white wedding and pompous and opting for original and alternative styles .Then here is that the white is replaced by other soft colors, such as pink and peach, and long trains leave room for carefree skirts, while a slip dresses are much more appreciated than ample.
This desire for innovation also involved designers during the week of the bride brought in walkways, among many others, also original clothing with totally unconventional styles.
For all women, during their special day -what long-awaited and dreamed from an early age- everything must be perfect, and create a new atmosphere with many personal touches makes this not only remain etched in the memory of the couple but also in that of the guests. The important thing, though, is not to overdo it, but always keep that refined and elegant profile worthy of a bride who plans to make her mark.
Here are 8 ideas for the alternatives brides with style…
1. Boho Chic
The Boho Chic style refers to a warm and relaxed. The light dresses with lace embroidery and bare shoulders are perfect for a wedding on the beach or in the countryside. With the style Boho Chic you can play with "wild" hair styles, letting her hair down or pulled back in a chignon upset, with the advantage of always keeping a sophisticated style.
2. Wreaths
The wreaths are a perfect and original hair accessory, suitable for both one boho style to a more classic style and conventional.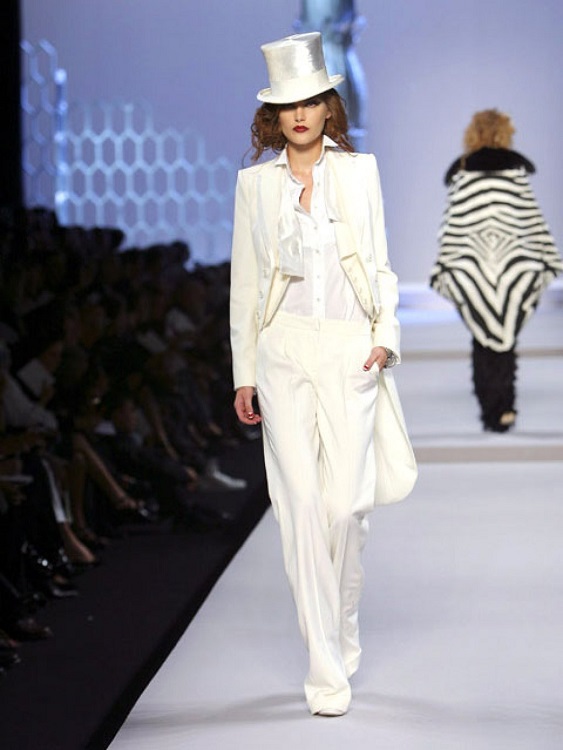 3. Costume
Whether skirt or trousers, those who opt for a suit for your wedding dress undergoes a sober and elegant style. To give a touch of spice to the look you can combine a wide-brimmed hat, as did Bianca Jagger on her wedding day forty years ago, or cylinder. The jacket with nothing underneath that reveals breast cleavage makes it more sexy and daring.
4. Sneakers
For the solution it is not just one of the heels lovers: sneakers. More and more brides in their wedding day renounce a high boot in favor of a more comfortable. Worn under a large dress or under a mermaid, sneakers give originality to the look, but above all do not tire the bride.
5. Skirt-pants
Middle ground for lovers of the wide skirt with train and alternative pants. The divided skirt is one of the great protagonists of the week of the bride.
6. Variety of colors
Pink, peach, blue serenity, greige and silver are the colors most in vogue chosen by brides who do not particularly like the white. It is delicate nuances which perfectly embrace the importance and elaborate workmanship of a wedding dress.
7. Short Dress
Rebellious and feminine, the short also won the hearts of more traditional dress. Combined with a bustier and a tulle petticoat skirt it is suitable for a summer wedding. Depending on the choice of the skirt -wide, adherent or palomino- you can recreate different styles, from princess-like in the case of Olivia Palermo – the Pin Up.
8. Dress petticoat
Sexy, sophisticated and that leaves little to the imagination. The most intimate boss always has been reinvented in a modern way to be worn every day and for every occasion. From mini-slips Carrie Bradshaw pass those long as wedding day, chosen for the occasion by Kate Moss during the day of her wedding.