Back to conventional sewing workshop: The wedding dresses 2017 Atelier Couture catwalk
Different styles and varied proposals. So are the new collections 2017 BridalCouture we have seen during the catwalk Atelier Couture in Fernan Nuñez Palace of Madrid. Marcela Mansergas, Rafael Urquizar, Cristina Pascual, nihil obstat, Fernando Claro and Santos Sewing were the Spanish designers who have delighted us with its beautiful and original (in many cases) creations, perfect for the most demanding brides.
Marcela Mansergas
All designers highlighted in the bridal industry for its good craftsmanship, and that each of its models are always made to measure. The young Valencian designer Marcela Mansergas advocates a vanguard girlfriend and current back into the air, sensual slits in the skirt and transparencies, all in different shades of white.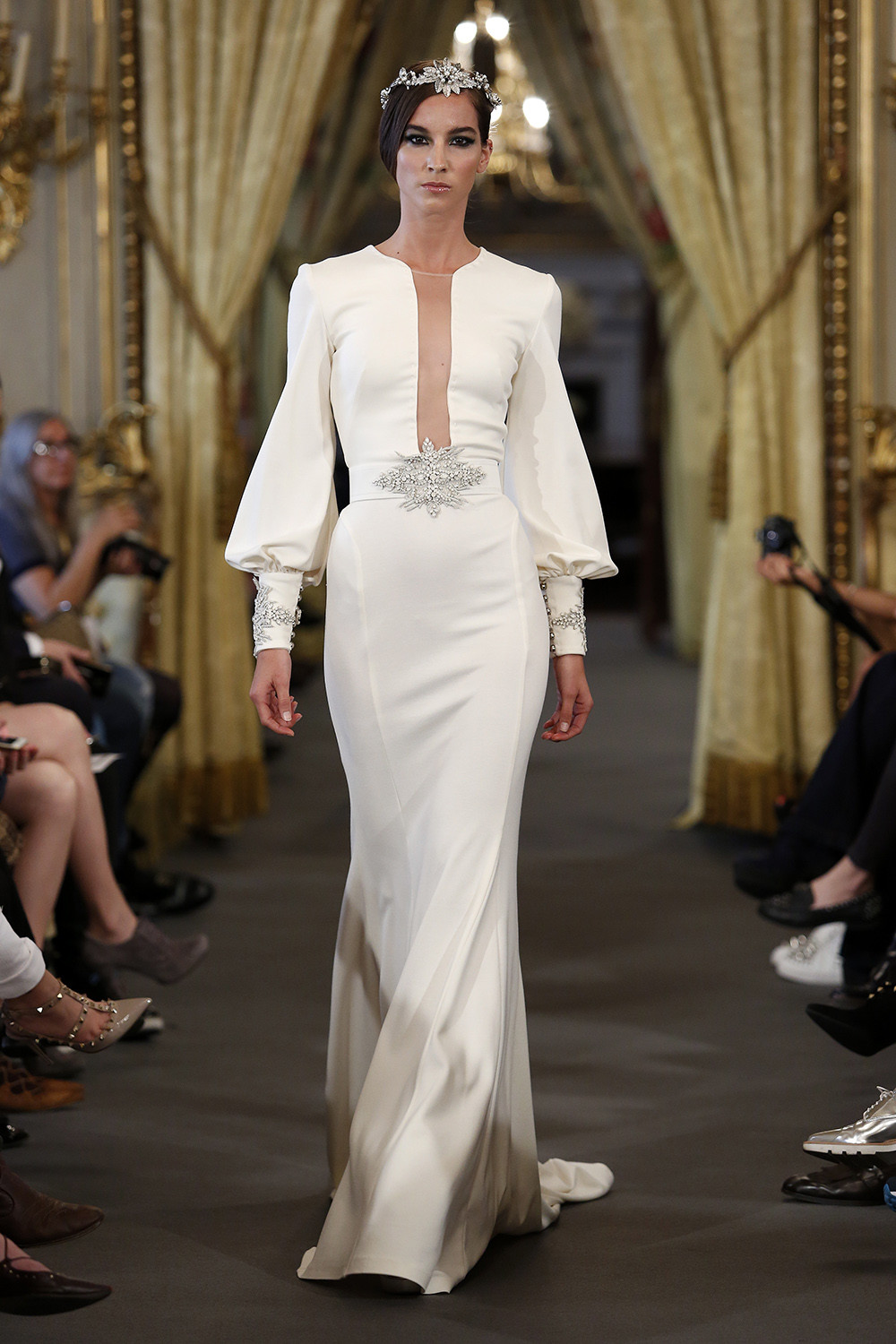 Rafael Urquizar
Brides Rafael Urquizar is becoming more personal. Smooth and simple lines, patterns break the monotony with rhinestone details on shoulders, sleeves and waist. Transparent, layered dresses and necklines looks with pants complete a daring collection. The most groundbreaking garment, a jacket dresses, also available for guest.In the party line designs include lace and bright colors, especially red.
Cristina Pascual
Cristina Pascual mixes different trends. On the runway we have seen from sober minimalist designs, models in black and white. They draw attention to the balloon skirts, details of embroidery and beading, flowers on the simplest dresses and tissueplumeti. A combination of delicate designs with the most daring. Accessories are signed by El Mito de Gea.
Nihil obstat
Armiche Rodriguez, designer nihil obstat, has compiled a collection inspired by the sea in the Mediterranean breeze … very simple, youthful and carefree, perfect dresses to get married on a beautiful beach. His models have details of starfish on golden cords as a belt.
Fernando Claro
Silk in all its versions, is the protagonist of tissue proposals Seville Fernando Claro. Marked Silhouette, structured shoulders and embroidered details are essential for new creations 2017. The bohemian side is present in designs fringed with much movement and the most modern betting on the network fabric.
Santos Sewing
Sewing Santos bet on traditional brides, but also surprises us with several impressive creations, much more special. Are looks where embroideries of white flowers and feathers are the perfect companions for the most daring dresses. Simple skirts combined with top crop, bottoms of skirts and tight bodies of transparent white flowers, very present in all proposals. White, gold and the black! are the two colors for bridal Catalan.